New STILER FREZARKA DO PNI SG24 PRO, STUMP GRINDER stump cutter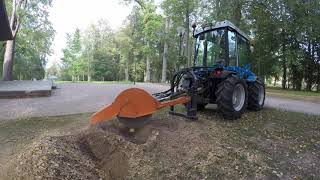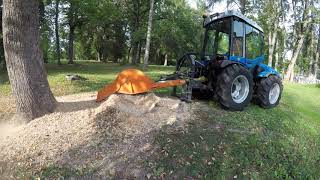 1/18
€3,246
Gross price, VAT – 23%
Model
FREZARKA DO PNI SG24 PRO, STUMP GRINDER
Location
Poland
Sokołów Podlaski
Need delivery?
Calculate the cost of delivery
New model of STILER SG 24 stump grinder

This model is driven by a PTO shaft connected to the tractor.

New model has been equipped with a larger number of teeth on both sides thanks to which it is possible to work left-right. This solution makes work even faster and more enjoyable.

Technical data:

Model: SG24-PRO
Recommended engine power: 30 - 50 hp
Diameter of the rotor: 61 cm
Number of teeth: 54 two-sided milling (work left right)
Tooth construction: steel with a carbide tip
Required roller speed: 540 rpm.
Cutting disc speed: 950 rpm.
Cutting height: 45 cm above the ground
Cutting depth: 20 cm below ground level
Maximum cutting depth at one pass: 15 cm
Maximum horizontal cutting range: 66 cm
The range of arm movement: 40 °
Hitch category: Cat. I or II (TUZ)
Weight: 280 kg

Included:

PTO shaft

Specification:

The machine is designed for milling trunks of felled trees.
It is equipped with a three-point linkage suspension system.
Power is supplied through the power take-off shaft (PTO), and the control of the movement from side to side and vertically is carried out by the hydraulic system of the tractor through two strong cylinders.
The machine's travel range is 40 ° (20 ° Left and Right).
The machine's blade is equipped with steel knives with a carbide insert.
Frezarka do pni STILER SG 24 - PRO

Nowy model frezarki do pni STILER SG 24 - PRO.

Model ten napędzany jest po przez WOM połączony z ciągnikiem.

Noszy model wyposażony został w większą liczbę zębów po obydwu stronach dzięki czemu możliwa jest praca lewo - prawo. Takie rozwiązanie sprawia, że praca jest jeszcze szybsza i przyjemniejsza.
Dane techniczne:

Model: SG24-PRO
Rekomendowana moc silnika: 30 – 50 KM
Średnica rotora: 61 cm
Ilość zębów: 54 frezowanie dwustronne (praca lewo prawo)
Konstrukcja zęba: stal z ostrzem węglikowym
Wymagana prędkość wałka: 540 obr./min.
Prędkość tarczy tnącej: 950 obr./min.
Wysokość cięcia: 45 cm nad ziemią
Głębokość cięcia: 20 cm pod poziomem ziemi
Maksymalna głębokość cięcia przy jednym przejściu: 15 cm
Maksymalny zasięg cięcia poziomego: 66 cm
Zakres ruchu ramienia: 40°
Kategoria zaczepu: Kat. I lub II (TUZ)
Waga: 280 kg

W zestawie:

Kompletna frezarka do pni
Wałek odbioru mocy WOM

Specyfikacja:

Maszyna przeznaczona jest do frezowania pni ściętych drzew.
Jest ona wyposażona w trzy punktowy układ zawieszenia TUZ.
Zasilanie odbywa się poprzez wałek odbioru mocy (WOM), zaś sterowanie ruchem na boki i w pionie realizowane jest przez układ hydrauliczny ciągnika poprzez dwa mocne siłowniki.
Zakres ruchu maszyny to 40° (20° W lewo i W prawo).
Tarcza maszyny wyposażona jest w stalowe noże z płytką węglikową.

Maszyna napędzana jest po przez WOM z ciągnika. Dwa siłowniki hydrauliczne napędzane z pompy ciągnika sterują maszyną prawo lewo oraz góra dół.
Zębate wykończenie ramy podporowej zapewnia większą stabilność podczas pracy.
Maszyna posiada zęby węglikowe dzięki czemu są one dużo wytrzymalsze oraz efektywniejsze przy pracy z naprawdę twardym drzewem.
Important
This offer is for guidance only. Please request more precise information from the seller.
Safety tips
Seller's contacts
Kamil
Languages:
English, PersonInfo.phtmlPolish
Artur
Languages:
English, PersonInfo.phtmlPolish
Poland, Mazoweckie, 08-300, Sokołów Podlaski, ul. Tartaczna 4
Seller's local time: 01:56 (CEST)
Selling machinery or vehicles?
You can do it with us!